Last Updated on
I will be teaching you how to make money on Fiverr without skills in this article. Many people want to make money online, in fact, it is the best option now at this time that #coronavirus has made everyone stay at home.
You don't need to go out, you need to avoid social distance and stay safe and above all you need to do, you need to have money. How do you make money when you don't go to work when you don't sell or render any service.
But don't worry, don't panic just stay safe, this too will pass. So in this article, I will be teaching you How To Make Money On Fiverr without skills, from $5 to a hundred dollars, even while staying at home.
You will be able to make enough money so that even when the virus is over, and everything is okay you will decide not to go back to that job again, you will decide not to serve your boss again because you will be making enough money to quit your job.
A lot of people are venturing into an online business, mostly freelancing so that they can earn some money online while they stay at home and do the work. In the world of freelancing, Fiverr needs no introduction.
BRAND NEW: Click Here To See The Best Adsense Niche In 2020
Fiverr is the largest freelancers marketplace where anyone can sign up and start selling services from $5 immediately
The service that you can sell on Fiverr can be anything from…
👉 Social Media Marketing
👍 Video Marketing
👉 Music Promotion
✅ Tattoo design
👉 Cartoons & Comics
✔️ Logo design
✅ Photoshop Editing
👉 Translation
✔️ LinkedIn Profiles
✔️ Sales Copy
👉 Book & eBook Writing
✅ Whiteboard & Animation Explainers
👉 Video Editing
✔️ Lyric & Music Video
Just browse through the available Fiverr gigs you will see how varied they are!
Really, there is a service for everyone to offer.
The truth is that everyone can really learn how to make money online by just registering on Fiverr and start selling their services.
This is exactly what I want to show you. How you can make money on Fiverr starting from $5 to 100 and even a thousand, without having any skills. I earn $600 plus so far on Fiverr that I just started, and you are about to learn the exact process I used to make money on Fiverr.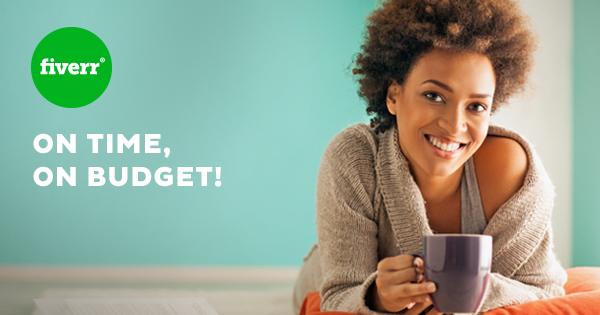 How To Make Money On Fiverr Without Having Any Skills
What is Fiverr
Fiverr is the leading and largest marketplace for freelance services starting from $5.
Over 830,000 freelancers on Fiverr and lots of people selling services and hiring freelancers through Fiverr.
Their services available range from logo design, social media marketing, graphic design, Social Networking, creating funny videos and so on.
Services rendered on Fiverr are called "GIGS".
People from all over the world visit Fiverr to sell their services, so you can find anything you want on the site.
My Fiverr Earnings
Before I talk about how to make money on Fiverr proper, let me show you the earnings I made on Fiverr for proof.
So as you see in the picture above I have made a total of $692 and the earning is about to go up to $800. I make all this money just in 1 month, rendering just only two services.
How To Make Money On Fiverr Without Skills
So you are wondering how did I manage to make that much money on Fiverr? First of all, since i dont have any experience yet, I just look for what other people are doing and having success with and I learn how they are making money on fiverr.
Since I want to make money on Fiverr without learning any skills, I quickly browse through all the category and I was a service that I can render without having any skills, just only promoting stuff on Social media.
Yes, I now have an idea of a gig to create. I'm going to create a Social Media Promotional Services, Under Digital Marketing.
There is no hidden secret or a big deal there. What I just do is look at what others are selling, and how much they are selling it, then I create my own gigs, following the samples.
Services rendered on Fiverr are called gigs. As you can see, the above gig is just to promote to over 250,000 fans, that's the premium offer. the basic is to 5,000 audiences while the standard plan is 10,000 audiences. A different plan, different prices.
That is how services on Fiverr are been render. Pretty cool right? Yes. Many people don't realize how much they can make on Fiverr without doing anything, just posting on social media so you use to do as usual can make you money.
So just go straight to Fiverr and create this kind of service today and start getting orders the same day.
This is my mailbox, the orders keep coming in, people keep buying my service, and I just deliver them and make my money, that's all.
Yes! At least now you can agree with me that making money on Fiverr is not really as hard as it might seem. I have shown you how I make my money on Fiverr and the service I rendered on Fiverr.
So now it's time for you to make your own money on Fiverr. Just follow these steps.
How To Make Money On Fiverr Without Skills – The Step By Step Guides
Step 1 – Visit Fiverr
Firstly, all you have to do is visit Fiverr, study the platform, get to know how things work there, read their terms and condition. Pick up a gig for example, and study how the gig is been created.
Make sure you get familiar with the program. It may take you couple of hours, but probably, it wont take you much time.
Step 2 – Create Your Fiverr Gig
Once you get used to the platform, go ahead and create your gig. It's more preferable for your gig title to be short and simple.
I will promotion of your facebook page or group
Step 3 – Create A Price For Your Gig
Basic
Standard
Premium
Set the prices for your 3 packages, select the elements you want to include in each offer, and add extras to increase your order value.
Step 4 – Write Your Gig Description
Just like your gig title, your gig diescription is also an important aspects of creating your gig.
Your gigs description will land you client, so it is expected of you to write in details every thing about your gig, dont leave any important details out, as buyers should have enough adequate description as weather you are offering a good service.
Don't be too Vague with your description, as this may leave some negative feedback from buyers.
Step 5 – Create Your Gig Requirements
This is where you'll include any requirements that are necessary for your buyer to supply in order for you to complete the job.
Step 6 – Creating Your Gig Image
You can create your gig image, using photoshop or any graphic software. But if you don't have any of this software, you can use picfont.com to create your Fiverr gig image.
just make some search, to see similar gigs and their images. Take note of the one that stands out from the others. You can also hire someone on Fiverr to that for you.
Upload photos in JPEG, JPG, PNG and ensure they're at least 550 pixels width x 370 pixels height.
We suggest uploading them in landscape format to make better use of the space.
Step 7 – Creating Your Gig Video
Adding videos to your Fiverr gig is optional, but it is altogether helpful.
According to Fiverr, gigs that has a video is likely to receive up to 200% more orders than those that don't include a video and enjoy 40% higher user engagement levels than others.
And your video should not exceed more 75 seconds in length, and should not include personal contacts.
Step 8 – Use Appropriate Tags/Keywords
The gig tags are keyword, but many don't realize it. So the right tag will make your gig rank well in the Fiverr gig search result.
So take a look at the tags above and see the one I use and you should use them also. Always use the right tags, when you are creating your gigs.
Step 9 – Publish Your Gig
Yes, after we've completed the above step 1 to step 8, we've come to the final steps where we need to publish our gig. simply click on the publish button, and the gig will go live.
Once your gig is live, we can now promote it on following social media in other for it to get more views. According to Fiverr, gigs that are promoted through social platforms are up to three times as likely to sell, so it's a good idea to consider this option.
How To Make Money On Fiverr – Let Your Gig Rank On Fiverr
Alright everything has been setup, and our Fiverr gig is live.
So now let me show you how to rank your Fiverr gig and start making more money.
This is the secret I've been using, I'm not supposed to share it with you here, in fact, I'm not supposed to share this whole article for free, it's supposed to be in form of an ebook, where you pay some token before getting it.
But because I want you to make money now that you are staying at home, so I'm giving this my secret out as my way to support the world.
To be precise, I have been using this secret to rank any gig No.1 on Fiverr and make more money.
Here's my secrets:-
How To Rank Your Fiverr Gig
Step 1 – Create A Dummy Account
Download the tor browser and create a new Fiverr dummy account. This is how the tor browser looks like below.
Just like other browsers, just go to Fiverr on the address bar and create a dummy account and buy your gig. I recommend buying your gig 2 to 3 times and give yourself nice feedback.
Step 2 – Use The Right Tag
Yes, once again tag simply means keyword. So use the right keyword. use the terms that people search for, that is the main key to ranking your gig on Fiverr. once people search for that keyword, they easily find you.
Step 3 – Promote Your Fiverr Gig
There are other ways I promote my gig, and that way is through sharing it on social media. Yes, social media will expose your gig too many audiences, thus increasing the impression, and the views.
In Conclusion To How To Make Money On Fiverr Without Having Any Skills
Now you've learned how to make money on Fiverr, so what are you waiting for? It's time to make your own money own on Fiverr, go ahead to Fiverr and register now.
If you are still not clear with the process of how to make money on Fiverr, feel free to ask me any question concerning how to make money on Fiverr in the comment section below, and I will be glad to answer all your question.